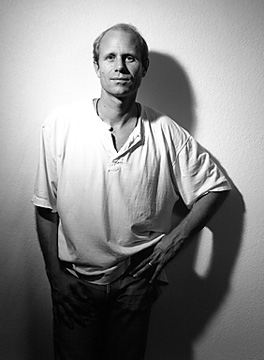 Scott Shaver is a native Californian who has lived and worked in the
Fresno/Visalia,California area for the past twenty plus years.
Scott produces primarily fine art photography, although he has also done
commercial work for a number of insurance companies, construction
companies, architectural firms and law firms. His fine art work has been
exhibited nearly 120 times including nearly a dozen museum exhibitions
and more than 30 one man shows. His work has been widely exhibited
in Central California and on the West Coast. Scottís work hangs in many
private, corporate and museum collections.
Scott got his inspiration for photography in the tenth grade under the
instruction of Jack White, a retired staff photographer for Harpers
Bazaar and Life magazines. Mr. White, an incredibly gifted photographer, and teacher, made a great impression on Scott and inspired him to pursue photography with a passion. Scott has continued his photography training and has to-date completed almost a dozen photography courses including commercial and architectural photography, color photography, portraiture, and many advanced courses in black and white and large format photography. He
recently spent his second week in intense study with the world renown
photographer and printmaker John Sexton, Ansel Adamsí long time
assistant. He has also studied with Lucien Clergue, the master nude
photographer from Arles, France.
He has recently begun to teach photography workshops. His studio workshops deal primarily with the technical aspects of crafting museum quality black and white prints. He has also began to teach nude workshops. His first two, held in Death Valley in April of 1997 and Santa Cruz in October of 1998, were joint efforts with Lucien Clergue, Europe's most well known environmental nude photographer. Scott is currently scheduled for a number of other technical and nude workshops.
During the past ten years, Scott has focused on fine art photography. He has covered over 95,000 miles in his photography trips throughout the Southwest, the Pacific Northeast, Eastern United States, Canada, Hawaii, and Alaska in his efforts to find and portray the nostalgia and beauty of the American West.
Scott is currently working on the production of his first fine art photography book. The book will be of images of the San Joaquin River. The book is to be published by the San Joaquin River Parkway and Conservation Trust.
This web site will be updated periodically. New images will replace older ones, biographical information will be updated and newer projects will be spotlighted.
If you have any comments, suggestions, or can provide constructive criticism, I would appreciate hearing from you. You can contact me in Fresno or on the web at the address shown. Thank you for visiting this web site. Please enjoy yourself!
General Biographical Information